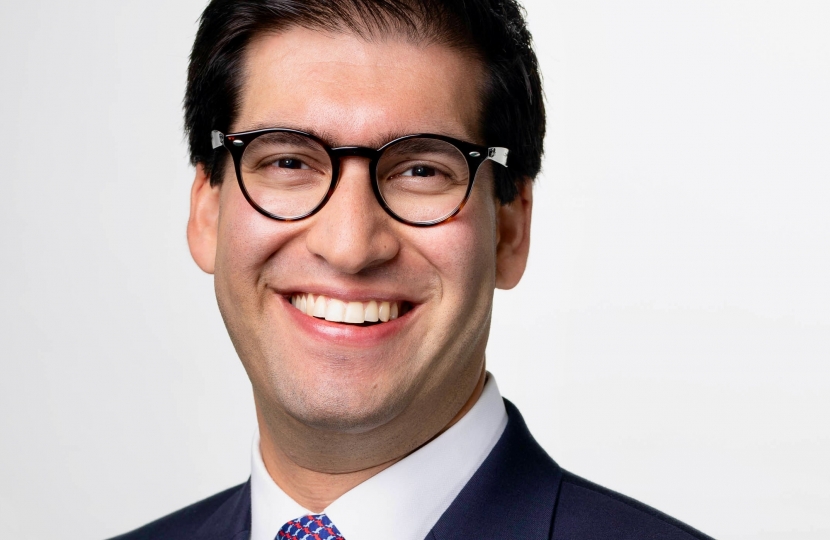 Local Hampshire MP trades up as the Prime Minister appoints him to the government
Member of Parliament for North East Hampshire, Ranil Jayawardena, was, yesterday [5th May 2020] appointed as Parliamentary Under Secretary of State at the Department for International Trade.
Mr Jayawardena has long been interested in and an advocate of International Trade. After Britain voted to leave the European Union in 2016, he was elected to the International Trade Committee, where he focused on how to get the best deal for both businesses and consumers — and make the case for free trade with countries around the world.
He also served as the Prime Minister's Trade Envoy for Sri Lanka from February 2018, visiting Sri Lanka to promote trade, meet with senior members of the government and engage with British businesses working in Sri Lanka.
Mr Jayawardena – until yesterday a Deputy Chairman of the Conservative Party – has also previously served on the Home Affairs Committee, the Committees on Arms Export Controls and the Procedure Committee. Prior to his election to Parliament, he served in local government — as Deputy Leader of The Borough of Basingstoke and Deane — and worked for one of Britain's biggest financial institutions, Lloyds Banking Group plc, in the City of London. He has a degree in government from the London School of Economics and is a Freeman of the City of London and a Fellow of the RSA.
While the exact responsibilities and portfolio of his new role are yet to be released, the UK and US governments have recently, this week, started negotiating a UK-US Free Trade Agreement.
Commenting, Ranil Jayawardena MP said:
"I'm delighted and honoured to have been asked by the Prime Minister to serve in Her Majesty's Government at this crucial time. I'm looking forward to working with Liz Truss and all the great people in the Department for International Trade, at one of the most exciting times for trade in our country's history, to underpin the government's agenda for 'Global Britain'. Britain has a new found freedom for further trade and many friends around the world who are keen to do more business with us – so I'm keen to get going and play my part.
"Of course, I'll not be forgetting Hampshire though! Naturally, I remain the Member of Parliament for the wonderful constituency that is North East Hampshire – where I'm proud that folk trusted me with their vote for the third time last December – and you can be assured that my work for North East Hampshire will be undiminished and will continue apace. I'll be continuing to assist with personal issues and casework, as well as championing the issues that are important to Hampshire residents, such as investment in our core infrastructure, support for our local health service and a new school for north Hampshire – only now I have the opportunity to do so from within the government.
"I got into politics to help people live a better life. That's what keeps me going. So, to have the opportunity to help secure great deals for all parts of the United Kingdom is a privilege and I'm raring to go. There's much to do!"